It might not always be known, but the insurance industry is well known for its charity and community initiatives. Insurance professionals are deeply involved with local communities as it closely align with the purpose of the industry's existence — helping people during difficult times by mitigating risks and recovering loss.
Picton Gazette's recent feature about a donation by Bay of Quinte Mutual to Prince Edward County Memorial Hospital made our hearts swell with happiness. As injury lawyers, though we're fighting against insurance firms to compensate our clients, we're discursively working with them in achieving that end.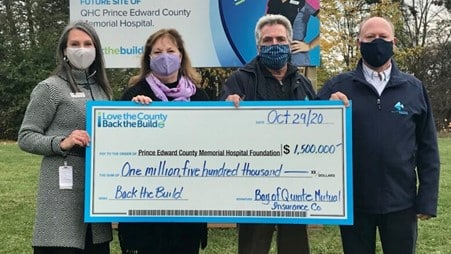 Picture taken from Picton Gazette
The nature of the insurance business is highly volatile, it's lack of transparency and negative impression often shadows the good that the industry has to offer. Objectively speaking, insurance is an indispensable asset to local communities — families, businesses and societies. Here's why:
Families: Insurance gives families the courage to carry on with everyday life without being overwhelmed by future uncertainties. Be it ill-health, the loss of a family member or replacing expensive equipment in a business, insurance has a big role to play in solving dire financial circumstances.
Businesses: Entrepreneurs and innovators can take risks owing to the cushion insurance provides them with. Being able to hold a firm ground by not selling out to the big mean players could mean the world to small entrepreneurs. With the support of insurance, small entrepreneurs can take risks and emerge as strong contenders in innovation and long-term leadership.
Societies: Home and accident liabilities that people are entitled to, or worker's compensation laws that employers have to comply with, are an outcome of the benefits of insurance. Insurance has remained a catalyst in reinforcing human responsibility and social goodness. It forms a structure of promoting a philosophy of common goodness at the policy level.
A survey suggests 87% of consumers say they're willing to buy a product or service based on a company's advocacy concerning a social matter. Initiatives that benefit communities can go a long way go in building trust and a personal connect with communities. As a personal injury law firm, Bergeron Clifford thanks and urges insurance firms to keep the focus on giving back to the society both — within the realm of their work, and behind the scenes.