Vision Zero is a globally renowned approach to road safety that provides the City of Kingston with an opportunity to develop a long-term vision of progressive reduction towards zero fatal and serious injury collisions on the city's roads.
The information collected from this data-driven study provides a tell-tale sign of some of Kingston's most dangerous roads and intersections. It has helped City of Kingston device solutions to reduce the number of vehicle-related collisions.
Number of collisions for the top ten highest collision categories. Intersection collisions comprised 31% of the 3,740 collisions recorded between 2012-2016.
Collisions on the roads in Kingston resulted in over 300 injuries and 3 fatalities between 2012-2016, and with numbers continuing to rise steadily, the City of Kingston under the guise of Senior Transportation Management engineer Deanna Green has adopted the Vision Zero Road Safety Plan.
The 5 most accident-prone intersections to watch-out for in Kingston-
#5) Taylor Kidd Boulevard and Gardiners Road
At number five, we have the Taylor-Kidd Boulevard & Gardiners Road intersection, which over the five-year span saw 18 accidents, resulting in 23 injuries.
#4) Princess Street and Centennial Drive
The fourth most dangerous intersection is Princess St. and Centennial Drive, where 18 collisions were reported in the five-year span, resulting in 27 injuries and sadly one fatality. More recently, in November 2017, a 6-vehicle accident at this exact intersection sent two people with serious, but non-life-threatening injuries to the hospital.
#3) Bayridge Drive and Princess St.
Cracking Kingston's top three worst intersections is Princess Street and Bayridge Drive. With a large influx of traffic/workers commuting from Kingston's west-end neighbourhoods, as well as Napanee and Westbrook at all hours of the day, this intersection saw 18 collisions during the timeframe, and resulted in 19 injuries. Accidents continue to occur at this intersection, as it is prone to T-bone collisions. This is largely caused not only by the volume of traffic headed in the east/west direction and by the lack of visibility when attempting to turn left in both directions – off Princess Street and onto Bayridge Drive. You may ask if this intersection deserves this place on the list despite having lesser injury related accidents. While that appears to be correct, this intersection was chosen with some bias. As an individual growing up in the area, this intersection has been the most challenging to navigate since retaining my license.
#2) Bath Road and Portsmouth Avenue
The second most dangerous intersection identified during Vision Zero collision data analysis was Bath Road and Portsmouth Avenue.  The eastbound lane of Bath Road is listed as even the most experienced drivers are challenged when they approach the Portsmouth intersection while turning left onto Portsmouth Avenue. This intersection saw a total of 22 collisions and 27 injuries.
#1) Bath Road and Sir John A. Macdonald Blvd
According to the collision data collected from Vision Zero's five-year study, it has been determined that the intersection of Bath Road and Sir John A. Macdonald Blvd. is the most dangerous intersection in Kingston. Acting as one of Kingston's main arteries into the heart of downtown Kingston, the increased traffic volume this intersection faces, specifically the left-hand turning lanes going both on the west and east sides on Bath Road is one of many explanations for the 25 collisions and subsequent 35 injuries recorded.
A comparison between pedestrian-only collisions and all collisions. The image on the left shows all the pedestrian collisions in Kingston's downtown region, and the image on the right shows all collisions recorded in the same downtown area. The larger the blue circle, the more collisions that have been recorded. This comparison makes it clear that increased traffic volume isn't always the most definitive explanation for intersectional collisions – as high pedestrian volume can also lead to increased intersectional and traffic collisions.
It goes without question that a commonality exists within this piece. If you are unfamiliar with Kingston's main roads/streets and intersections, each of these intersections run along with one or more of Kingston's busiest roads/streets. A general consensus could tell us that higher traffic volume increases the risk of intersectional collisions and injuries. Looking closer at the data from the Vision Zero Project, it is clear that areas with higher traffic volume and larger vehicle-pedestrian interaction are the most dangerous areas in Kingston.
It will certainly be interesting to observe the latest numbers to assess whether the solutions implemented by the City of Kingston are effective in reducing the likelihood of traffic collisions.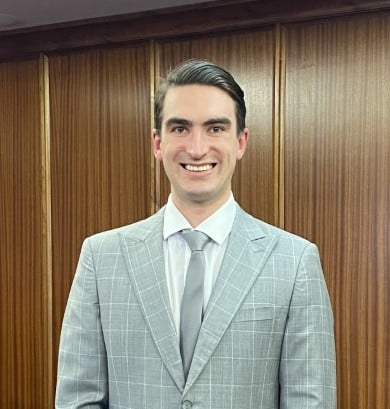 About the Author – Zachary Kish
Zach was born and raised in Kingston Ontario, and is currently in his final year of his undergraduate degree where he is majoring in political studies. He has aspirations to attend law school, and has spent a considerable amount of time throughout the pandemic preparing himself for the LSAT and the necessary requirements for the application process. A friendly, people-first individual, Zach has a passion for sports, a good political debate and the well-being of others, and has been driven to pursue a career in law in the hope of inspiring others and making a positive difference in people's lives. His legal interests include contracts, employment and labor law, sports and entertainment law, and personal injury law. Our team thanks Zach for taking the time-out on working on some research projects with us.
A motor vehicle accident affects more than just the person injured. If you or someone you know has been involved in a motor vehicle accident, speak to an experienced personal injury lawyer. You have rights as a motor vehicle accident victim and may even be entitled to compensation.
Sources
"Vision Zero: Kingston Road Safety Plan", June 2019
(https://www.cityofkingston.ca/documents/10180/21135124/Transportation_VisionZero_RoadSafetyReport_Final.pdf/c4f1cdeb-6fc0-4438-9cc9-a2781e844db5)
"Vision Zero: Story Map Series 2012-2016" 
https://cityofkingston.maps.arcgis.com/apps/MapSeries/index.html?appid=fce2b0bc
e74340fe92d1175f9152874d.
"City of Kingston: Vision Zero" 
https://www.cityofkingston.ca/city-hall/projects-construction/archived-projects/vision-zero
Soucy, Paul. "6-Vehicle Collision in Kingston Sends 2 to Hospital." Global News. Global News.
November 22, 2017.
https://globalnews.ca/news/3874119/6-vehicle-collision-in-kingston-sends-2-to-hospital/.